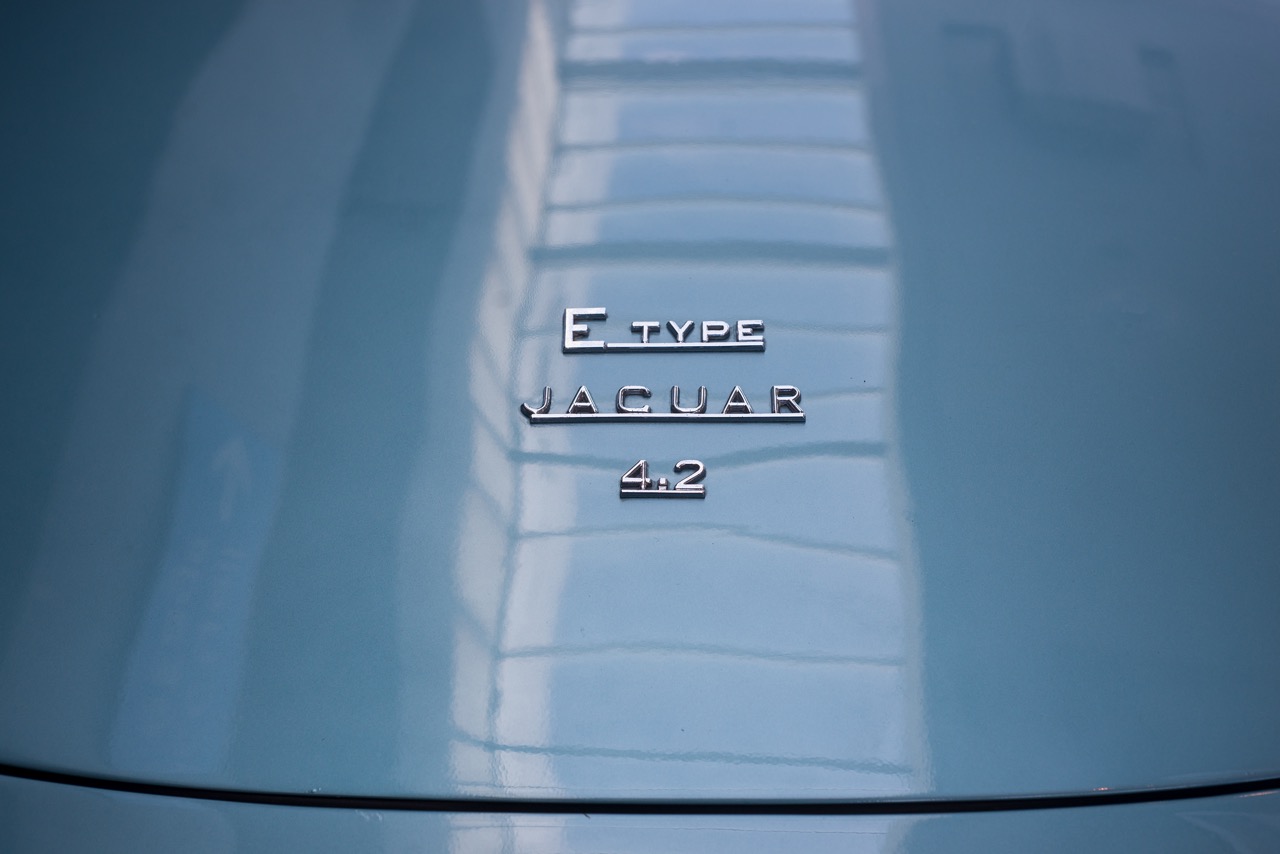 Jaguar E-type, Epitomizing Superb Car Design  
Beauty, as they say, is in the eye of the beholder. And plenty of beholders have declared the Jaguar E-type to be the most beautiful car of all time. Combining sleek, fluid exterior form with track-worthy sports car function, E-type combined, for the first time, elements of competition racing with affordable, everyday use.  
Debuting in March 1961 at the Geneva Auto Show, this elegant, sensual sculpture on wheels was an instant sensation. Enzo Ferrari is widely quoted as having declared Jaguar E-type the most beautiful car ever made, and while the veracity of that statement is questionable, Il Commendatore clearly knew plenty about designing luscious cars and found Jaguar E-type to be among them. The accolades have scarcely diminished since, as demonstrated in the November 21, 2022, issue of Car & Driver. In The 10 Most Beautiful Cars According to Leading Automotive Designers, 22 industry heavyweights were asked to share the production cars they deem the most beautiful. The marques are legendary—Lamborghini, Alfa Romeo, Bugatti, Ferrari, Mercedes-Benz, Porsche, Corvette—but like nearly every discussion of most beautiful/iconic/influential/important cars since that first Geneva showing, Jaguar E-type tops the list.  
Why? What is it about Jaguar E-type that continues to resonate after 60+ years?  
How E-type Came to Be 
Founded by Sir William Lyons in Coventry, England, in 1922, Jaguar Cars began as a producer of motorcycle sidecars. Swallow Side Car Co. soon became Swallow Coachbuilding, producing its first automobile in 1931. Sir William changed the name of the company to S.S. Jaguar Cars in 1936 and dropped S.S. because of Nazi associations after World War II. War production centered on military trailers, motorcycle sidecars, and most importantly, aircraft. The company built aircraft wings, bomb doors, fuel tanks, fuselages, tails, and other components, some designed by Malcolm Sayer, an aircraft engineer and aerodynamicist with Bristol Aeroplane Company. As part of Sir William's postwar plans for renewed automobile production, he introduced the leaping jaguar logo in 1945, symbolizing the core values of grace, elegance, performance, power, and ambition to vault forward. He also sought new talent, which led to hiring Malcolm Sayer in 1950. Sayer brought his aircraft expertise and knowledge of the science of aerodynamics with him. That aero-centric styling approach shaped Jaguar's 1950s C- and D-type racecars and ultimately led to the storied Jaguar E-type in 1961.  
The prestige associated with high-performance racing was central to Jaguar during the 1950s. C- and D-types developed during those years were exclusively racing machines and successful ones at that. The Jaguar C-type won Le Mans in 1951 and 1953; D-types triumphed in 1955, 1956, and 1957. Both C- and D-types were designed by Malcolm Sayer, with slippery, aerodynamic shells that contributed substantially to their victories. They also served as precursors of what was to come.  
Jaguar E-type, Synthesizing Competition Racer, and Everyday Sportscar 
Sir William's vision for Jaguar E-type was something entirely new—a car that combined the fast looks and advanced mechanics of a race car with the daily-drive appeal of sports car quickness, luxury appointments, and pricing affordable to the consumer market.  
Fast forward to 1996, when the prestigious Museum of Modern Art in New York made its Jaguar-donated 1963 opalescent dark blue Jaguar E-type roadster only the third automobile to be designated a landmark design object and honored with a permanent place in MoMA's collection. The accompanying exhibition ran from April 4 through August 20, 1996, and featured the car, an additional E-type engine, C- and D-type photo panels, and original engineering drawings. The accompanying catalog REFINING THE SPORTS CAR: JAGUAR'S E-TYPE explores the history and unusual design method of what's generally regarded as the first modern sports car. The book delves deeply into characteristics that contribute to making this the most beautiful of cars. Specifically:  
"The fundamental appeal of the sports car is a consequence of its exterior form being the direct expression of its function. The sleek sculptural lines of a well-designed sports car suggest movement, speed, and the unimpeded flow of air over the chassis. These machines engender emotions unique to this class of automobile …. Rarely has one motorcar inspired such passions and combined the elements of beauty, performance, and even affordability as comprehensively as the Jaguar E-type."  
Race-car influence gave the E-type its most striking feature—its wondrous styling. In designing E-type, Malcolm Sayer made the function of the silhouette paramount and integral to the car's performance, which was a concept transferred from airplane design. He started with "the four fixed dimensions of the car previously determined by the engineering requirements for height, length, width, and ground clearance. To arrive at the body's basic form, he used a complex numerical formula for refining the shape of the skin until it was mathematically precise." (His secret formulas were calculated manually but presaged today's Computer Aided Design.)  
The principal recurring geometric element is the ellipse, a closed curve that contributes to E-type's graceful, uninterrupted lines. The bullet-like shape is inspired by functionalism and minimizing drag. Implying movement and expressing the relationship of automobile to wind and ground, E-type employs a series of gently curved peaks and valleys rippling harmoniously across the entire surface. As such, it was one of the first popularly-priced vehicles to transfer aerodynamic principles from planes to automobiles.  
Serious attention to function was equally well represented in design. True to its racing roots, E-type incorporated many technological features that previously were only available on much more expensive cars. Among them: front and rear independent suspension, rack-and-pinion steering, and four-wheel disc brakes. Advanced semi-monocoque construction imported from the airplane industry made E-type lighter and faster than anything else on the market. The 3.8-liter, six-cylinder engine delivered top speeds approaching 150 miles per hour, topping all large-production cars.  
Interior comfort was another priority, as was affordability. While compact inside, the car borrowed appointments from Jaguar's luxury sedans, was easy to drive, and produced a pleasant ride. Priced in 1961 at approximately $5,500, the roadster was half the cost of similar offerings from Ferrari, Aston Martin, or Mercedes.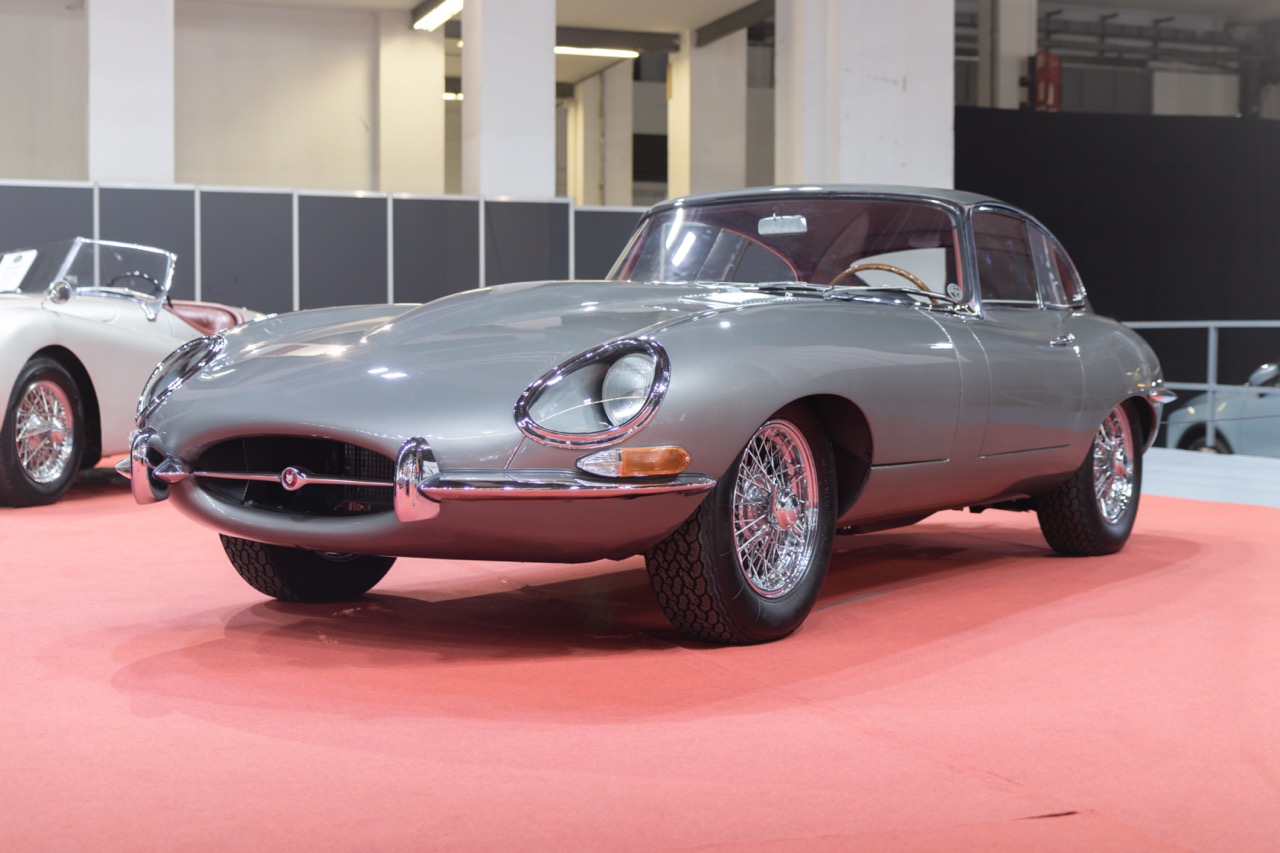 Enormous Appeal and Endless Love  
Jaguar built a total of 72,520 Jaguar E-type vehicles during the 1961 to 1974 production run. At launch in 1961, two versions were available, the FHC grand touring two-seat Fixed Overhead Coupe and the two-seat convertible roadster OTS Open Two-Seater. A 2+2 version with a four-passenger capacity and longer wheelbase was released in 1966. Of the three production series, Series 1 from 1961-1968, is considered the most authentic and desirable, although updates were made each year. Series 2 from 1968 to 1971 incorporated a number of features mandated for U.S. safety purposes and Series 3 from 1971-74 introduced a new 5.3L Jaguar V12 engine. Although widely known as the Jaguar E-type, the car was marketed as Jaguar XK-E in the U.S.  
Adored by the public and famous personalities alike, demand instantly soared, with 5,500 units ordered by the end of the first year. Frank Sinatra is reputed to have said at first viewing: "I want that car, and I want it now!" Beatle George Harrison was gifted a E-type for his birthday, customized with a record player mounted to the dash. Pink Panther film star Peter Sellers bought one for his wife Britt Ekland. Actor Tony Curtis was frequently seen in his E-type roadster, and singer Elton John had a hot red model in his collection at one time.  
All of which comes back to the question of beauty. Jaguar E-type has been described with every superlative in the lexicon—automotive beauty incarnate, perfectly proportioned, the ultimate simplicity of design, an exotic presence, the articulation of originality and freshness, the pinnacle of 1960s sports cars, a fluid latticework of static and animated shapes, like nothing else on the road. Ultimately, a precise explanation is impossible and unnecessary. Suffice it to say, Jaguar E-type deserves its honored place in the pantheon of most beautiful cars.