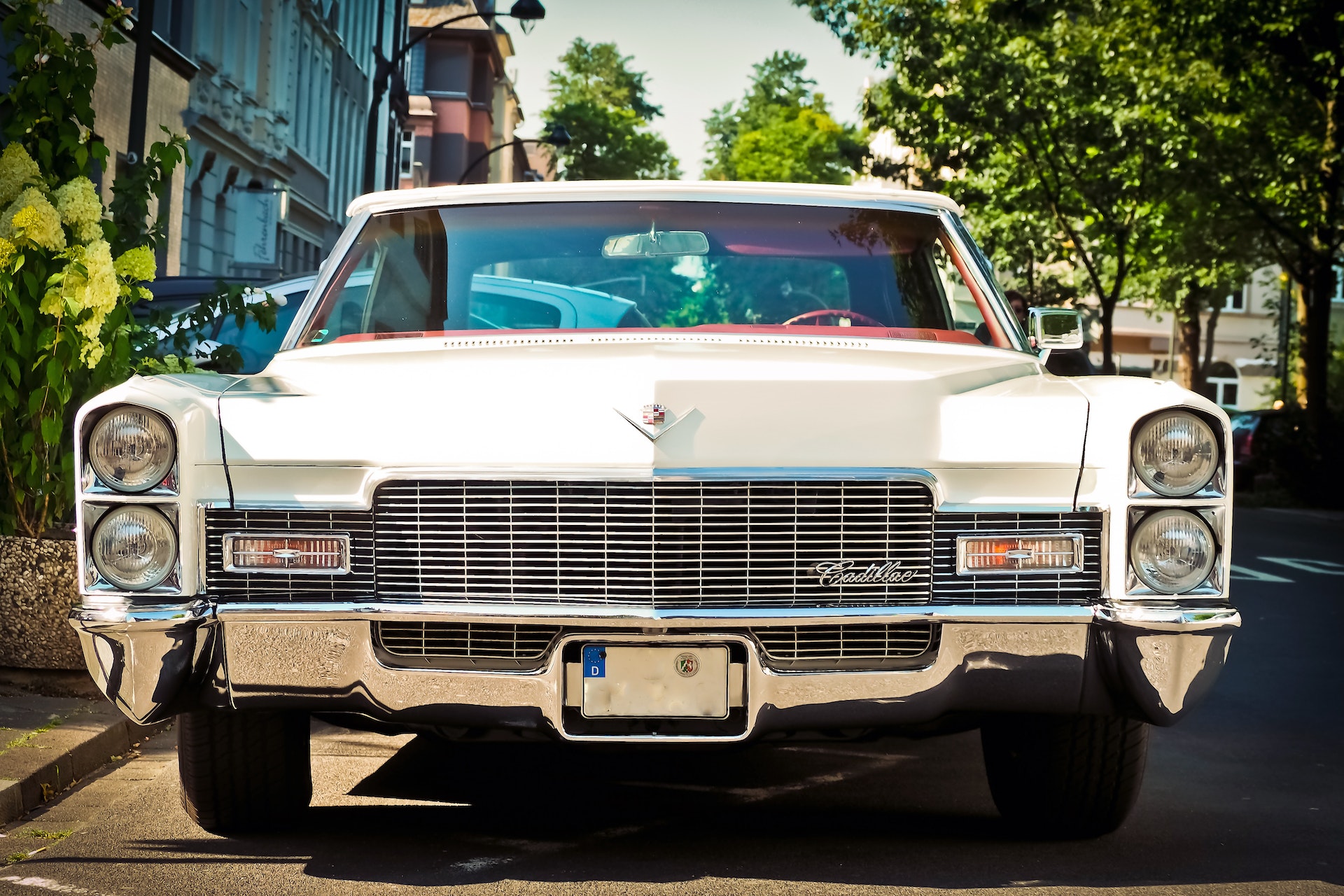 Eldorado, the Cadillac of Cadillacs for 50 Golden Years 
Magnificent. Exceptional. Superb. Glorious. Glamorous. Sensational. Exquisite. Peerless. Pick any superlative and it's likely been used to describe the incomparable Cadillac Eldorado. During an extraordinary half-century run, this nameplate epitomized luxurious automotive styling and advanced technical innovation. As the advertising slogan of the era promised, Eldorado led a parade of models that indeed made Cadillac the Standard of the World.  
Celebrating Cadillac's Golden Anniversary with a Gilded Car 
The very first Eldorado was built to showcase 50 years of Cadillac history. One of the oldest nameplates to remain in continuous operation, the Cadillac Motor Car Company was founded in August 1902 by Henry Leland, a skilled machinist and former associate of Henry Ford. Leland named his open-air, two-seat, 10 horsepower, single-cylinder-engine horseless carriage for the French explorer and 1701 founder of Detroit, Antoine Laumet de La Mothe Cadillac. Leland introduced his creation the following year at the New York Auto Show with an $850 price tag, producing nearly 2,500 cars in 1903. More importantly, he began the reputation for luxury and quality that has defined Cadillac ever since. The fledgling General Motors Corporation took notice and in 1909 bought Cadillac from Leland for $4.5 million in GM stock.  
Engineering firsts came early on, including introduction of standardized, interchangeable parts in 1908; the enclosed body cabin in 1910; the industry's first electric starter in 1912 (no more arduous hand cranking!); and installation of the pioneering V8 engine as standard equipment in all models in 1915. The next year, 1916, brought the modern control layout of gear lever and hand-brake in the center of the car and three pedals, throttle, brake, and clutch, on the floor. The synchromesh transmission in 1928 simplified changing gears; shatterproof safety glass came that same year. Cadillac pioneered adaptive suspension technology in 1933, and switched to production of tanks and aircraft engines during World War II.  
There was plenty to celebrate by the 1952 Golden Anniversary of the Cadillac brand. So GM execs decided to build a very large, super-luxurious, convertible show car for 1952 General Motors Motorama. The name Eldorado came from an in-house naming competition. The winning entry was submitted by Mary-Ann Marini, a secretary in the merchandising department. It derived from El Dorado, the mythical South American city of gold, and the Spanish word dorado, meaning gold or gilded.  
Eldorado became part of the lineup in 1953 as top-of-the-line trim for the Series 62 convertible; 532 units were produced. Buyers choose from one of four uniquely blended colors, Alpine White, Artisan Ochre, Aztec Red, and Azure Blue. Convertible tops were white or black Orlon. The stylish wraparound windshield and cut-down beltline were soon copied by other automakers—wherever GM went, the industry followed. Standard features included a heater, power windows, automatic windshield wipers, and signal-seeking radio. At 220.8 inches long (18.4 feet) and 80.1 inches wide (6.675 feet), everything about Eldorado was big, including the $7,750 price tag, nearly twice what other Cadillac models cost.  
From that auspicious beginning, Eldorado, the longest running personal luxury car in America, continued for 50 years through 10 generations of styling. The name and model were finally retired in 2002, with lots of colorful history and plenty of stories to tell.  
The Epitome of Eldorado Elegance, the 1957 Brougham 
The decade of the 1950s was perhaps the zenith of Eldorado exuberance. High, slender tailfins came along in 1955, making the bulky fins on other brands look clunky and out-of-date. In 1956, a two-door hardtop coupe was added to the lineup, the Eldorado Seville.  
To this day, the 1957 Eldorado Brougham remains one of GM's most memorable and extravagant designs. Among the distinguishing features were rear-hinged rear doors, stainless steel roof and trim, the first memory power seats, power windows, power door locks, air conditioning, and pillarless door design to allow complete air flow-through with the windows down. The engine was a 365 cubic inch V8 with two four-barrel carburetors producing 325 horsepower, sound-tested prior to assembly because only the quietest was good enough for Brougham. Small luxuries were hidden throughout the interior: a custom-fitted cigarette case in the glove compartment, tissue dispenser, compact mirror and lipstick, and four magnetized drinking cups (read shot glasses) with gold finish mounted to the glovebox door. The rear armrest storage box was outfitted with a notepad and Cross pencil, portable vanity mirror, even an atomizer filled with perfume by Lanvin. Entertainment was provided by the first all-transistor radio ever in an automobile; the electrically-operated antenna rose automatically when the radio was turned on. The car was available in 15 colors, including three shades of blue and three of green. Length was 18 feet, weight 5,315 pounds. Base price before adding any of the imaginative options was $13,075 (about $138,000 in 2022 dollars), which was more than a Rolls-Royce Silver Cloud of the same year. Only 400 were produced. Although styling was somewhat altered, Brougham for 1958 through 1960 was equally pricey. Assembly was contracted out to Pininfarina of Italy, where the cars were hand-finished following shipment of elements from the U.S.  
Also capturing the over-the-top character of high-end automobiles in America was the 1959 Eldorado Biarritz Convertible; historians talk about the late 1950s as a time of U.S. overabundance, excess, self-confidence, self-indulgence, and prosperity. Reflecting the optimism of the era, Biarritz took inspiration from jet aircraft, with sharp, swept-back tail fins, body-color fender skirts, front parking lights that resembled bomber air intakes, plenty of grille chrome, sweeping bumpers, and an eager 345 horsepower engine. Extra features included an automatic headlight dimmer and every luxury available at the time. Biarritz, like Brougham, was unfortunately saddled with one of the true technical failures of the late 1950s. The supposedly ingenious air suspension apparatus underpinning the vehicle was prone to collapse, leaving the car on the side of the road, resting undrivable on the frame. Many owners had their Eldorados converted to conventional coil spring systems as a result.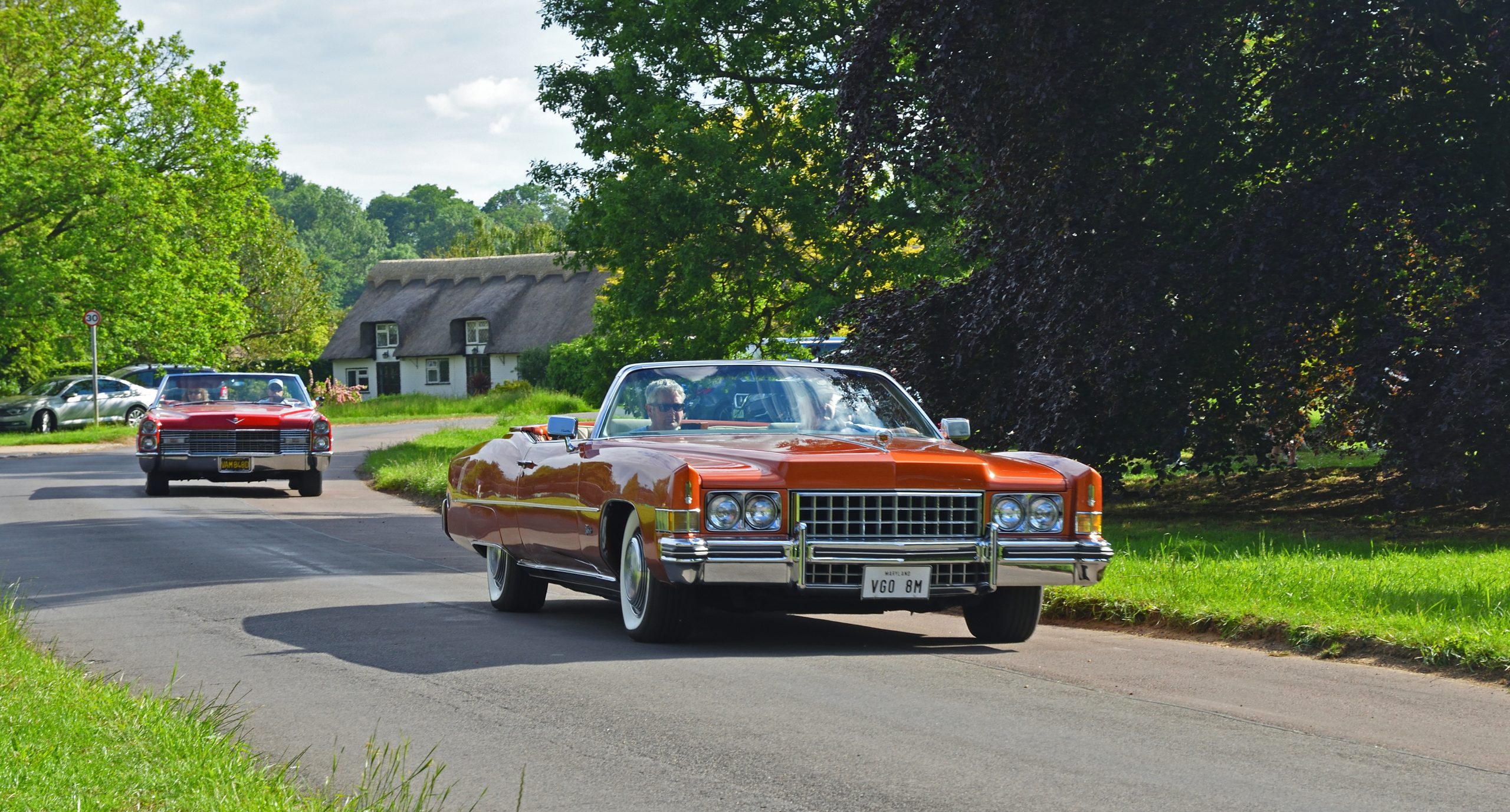 Choice of Celebrities, Star of Films 
As the crown jewels of motoring, Cadillac Eldorado Brougham, Biarritz, and other models attracted the rich and famous. Wanting the best that money could buy, Bob Hope, Conrad Hilton, Aristotle Onassis, Mohammed Ali, Richard Burton, Clint Eastwood, Chuck Berry, and John Wayne all owned Eldorados. Frank Sinatra's 1958 Brougham was Maharani Maroon. Royalty from around the world had to have them, as did movie stars, politicians, mobsters, musicians, corporate executives, public figures, and the fortunately wealthy; everyone wanted to ride in the Standard of the World.  
When Elvis Presley spotted a stunning Topaz Gold Firemist Eldorado Coupe parked outside a Memphis dealership he decided on the spot he had to have it, and so he did. A true enthusiast, Elvis is said to have owned 200 Cadillacs during his lifetime (he died at 42 in 1977). He gave away nearly all of them to family and friends.  
Over the years Eldorado made numerous film appearances in the U.S. and elsewhere. Movies like Dolomite, Superfly, The Mack, Willie Dynamite, Magnum Force, and Casino all featured the vehicle, sometimes customized to a particular role. The long list of Eldorado TV shows included The Rockford Files, Fantasy Island, Dallas, Seinfeld, Murder, She Wrote, and many more.  
Meanwhile, the Cadillac record of innovation continued, with power steering becoming standard in 1954. Radar-based forward collision detection was offered as an option as early as 1959; today the technology is standard in all Cadillacs and across many other brands. Disc brakes were introduced as standard in 1968. Power sunroofs were an option from 1969. Electronic instrumentation was made available in 1983. The 1987 cellular phone option was a technical marvel at the time.  
Frequent Updates, Always Eldorado 
Many revisions to Eldorado occurred over the decades, although for the most part GM management remained committed to protecting the upscale reputation and plush integrity of the line. Whether in convertible or hardtop guise, the car was usually longer, wider, sleeker, posher, and more dramatically styled than anything else on the road. Often Eldorado was produced on a Fleetwood body and marketed within that lineup. After a radical redesign in 1967, Eldorado shared the E-body platform with Oldsmobile Toronado, although Eldorado styling was crisp, angular, and distinctive, with hidden headlamps, a long hood, and short deck out back. That same year, front-wheel-drive became standard and remained so through the rest of the Eldorado lifespan, delivering better roadability and improved handling. Even though compliance with new, more stringent federal emissions and safety standards was required, speed in 1957 topped out at an aggressive 120 mph. Despite high prices, sales of Eldorado's personal luxury were strong.  
Following redesign in 1970 of all GM full-size cars, Eldorado was chosen as pace car for the Indianapolis 500 in 1973. Cadillac produced 566 of these special convertibles and used 33 during race week. The remaining vehicles went to U.S. retailers, with one for each dealership.  
In 1976 GM heavily promoted Eldorado as the last American convertible after other automakers had abandoned the style for cost and safety reasons. (Except it wasn't. GM brought convertibles back in 1983). Painted white with red and blue pinstripes along the upper body, 200 special Eldorados were designated the Bicentennial Edition that year. Three years later, in 1979, Eldorado came out with new, slimmer, trimmer styling that had better fuel economy than predecessor models. This latest version still managed to record solid sales.   
The beginning of the end came in 1986, with Eldorado radically downsized by 16 inches and 350 pounds. Even the V8 engine was reduced in size. For the first time, Eldorado looked and felt small compared to competitive luxury brands. Sales plummeted by 60%.  
Some of Eldorado's size and design cues were restored with introduction of the 10th and final generation of styling in 1992, but the market had already moved on. GM decided that Eldorado's 50th anniversary year in 2002 would be the last. To mark the occasion, only 1,596 cars were produced, all in original 1953 colors. Even the exhaust was tuned to sound like 1953.  
Today, hundreds of classic car clubs celebrate Eldorado and its many iterations. Some original cars are still available despite being more than two decades old. Vehicles meticulously restored to their former glory are proudly driven by owners at festivals and in parades. Concours-level Eldorados from the earliest years command six figures on the rare occasions they come up for sale.   
Above all, Cadillac Eldorado continues to represent the apex American automotive greatness. These aren't cars; they're incomparable works of art.