2022 Lifetime Achievement Recipient
"In all but the gravest topics, let the words carry a smile. Serve the readers something delicious. They'll love you for it."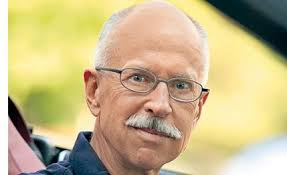 Patrick Bedard wrote a monthly column and hundreds, perhaps thousands, of car reviews, and feature stories for Car and Driver magazine over more than 40 years making him not only one of the most prolific auto journalists of our time but his "voice," or writing style, made him one of the most beloved. He wrote in a casual, colorful, and eloquent style that had many of the magazine's regular readers going to his column first when they received the newest issue for his take on whatever captured his interest that month. His journalistic philosophy is revealed in this quote: "In my mind," he said, "a key requirement for journalistic success, whether it be auto or any other topic, is skepticism. Oh yeah? Look behind what's being said. Oftentimes, the facts are several layers beneath the surface."
Also an accomplished racer, Mr. Bedard insists that racing "was always a personal venture – never a quest for editorial material." His description of the official Indianapolis Speedway photos taken immediately after qualifying exemplifies racing's allure for him: ". . . the driver's heart still at a hummingbird pace and the power plant still ticking, clicking and moaning as it cools from the furnace hear of its exertions. The pose looks tranquil, but the reality is anything but."
Congratulations to Patrick Bedard on the Automotive Heritage Lifetime Achievement Award.
"I've been out of circulation for a few years, so I flew in yesterday from my undisclosed location, just to make sure no one thought this award was posthumously given.

After more than a half-century at a keyboard, I still squirm at the idea of me as a journalist. Really, I'm an escaped engineer. My education is entirely as an engineer. I took only the minimal English that all engineers must survive.

Chrysler Engineering gave me my dream job in the mid-sixties, but the pace was too slow for the young me. It would take a year to tool up a toothpick in those days. I could see myself half asleep, carrying over the B-body suspension year after year, and kicking the dog when I got home.

When the tech-editor job opened at Car and Driver, I beat it to New York City. Leon Mandel had recently taken the editor-in-chief job. The man was on fire. "Car and Driver is the best f***ing magazine in the world," he growled, "and it just happens to be about cars."

He had the passion that engineers aren't allowed show. Get too enthusiastic about an idea in the engineering world and no one will trust your judgment. Mandel had the raw passion and he had something else, he had a banner I could follow. When he said, "You're hired," I knew an earthquake was coming.

The tiny tenth-floor office at One Park Avenue was a jumble, file folders askew on every surface, staffers crowded in as best they could. Amazing to this foreigner in New York, there was no parking. The test cars disappeared into the Red Ball garage two blocks away. We bought them out, plus tip, whenever we needed them, then drove them back into the maw when we had finished. How could a car magazine survive like this?

David E. Davis, Jr., would stop by the office occasionally, from his uptown advertising job, to drop off a manuscript or to check into something. Brock Yates would come down from upstate New York every month or so. The big guys would gather in Mandel's office. I could hear them joking and laughing, quoting bits they'd written. Davis, in a recent column, had written the line "stoned as a peach-orchard Billy goat." They chewed on that and guffawed. They played off each other, ducking and weaving, looking for an opening to launch the nuclear quip. I was invisible. I was the janitor with the bucket and mop, there to clean up their technical messes.

I knew I was in over my head by a fathom or two. Until I could put the power to the page as they did, I'd always be the janitor.

Even after taking a pay cut, I was still an expensive hire, but none of the liberal-arts majors putting out the magazine really knew how cars worked. So Mandel stepped up to salvage his investment, to make a writer out of me.

If it was a burden, he never showed it. He was a missionary, filled with the joy of gathering disciples and creating a great magazine one word at a time. He'd give me an assignment, then invite me up to his house in Ossining for a Saturday night stayover. After dinner, I would pull out my pages and we'd go through them, line-by-line, word by word. "What are you trying to say here? Why did you choose this word? Is it the best word?"

Word choice is the writer's basic tool, he explained. The escaped engineer considered that idea. "You mean that words have part numbers, and only one part number is right for each job?" He nodded.

Looking back now, he gave me the keys to the kingdom right there. Choose a word. Choose another. Choose words that dance together. It was all up to me.

No counter guy at the word department would scowl at me if I chose one, then put it back and tried on another one.

I never had to go to the boss and plead for a bigger word budget. "Boss, I just can't get it done with these dull old words I've got. I need sharper words, shinier ones, high-impact words, words that will judder the windows at Motor Trend when they strike."

Words are free. All I had to do was sort out exactly the right ones. The boss never had to sign off on my word bill at the end month, never had to frown over his glasses and say, "Yeah, you use them well, but you just have to cut back."

As a way to earn a living, it has been terrific fun. Thank you."

Automotive Heritage Foundation Presentation

Patrick Bedard Script, 8-19-22
About the Lifetime Achievement Award
"The Lifetime Achievement Award is given to an individual who has, in the eyes of his or her peers, made a substantial contribution to the craft of automotive journalism for a period of twenty-five or more years and has aided and inspired the development of the next generation of auto journalists."
The Lifetime Achievement Award, historically presented by the International Automotive Media Competition, had honored a person within the broad definition of automotive journalism. Our new version narrows the focus to those who are substantially involved in covering the stories and subjects related to automotive history and culture, antique, classic and collectible automobiles, and related topics. Jurors for this award are former winners, as much as possible.
The physical award is a sculpture by renowned automotive fine artist Alex Buchan. We originally used Mr. Buchan's interpretation of the "Atlas" hood ornament from an early-20s McFarlan automobile. When Mr. Buchan designed the permanent trophy using a bust of famous racer, Louis Chevrolet, we had a smaller version made for our Lifetime Achievement Award trophy. Since that time we've used both.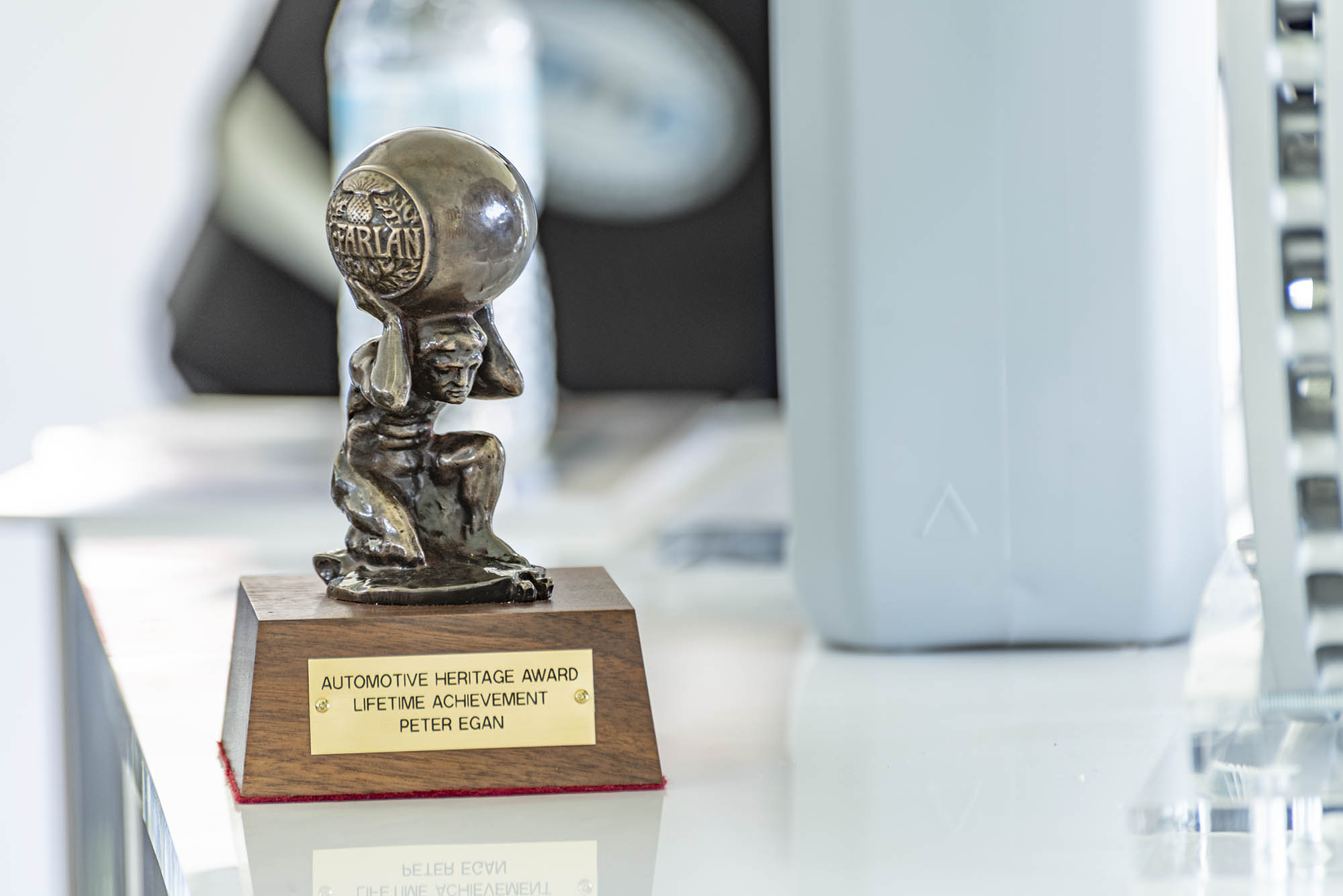 Jim McCraw
Don Sherman
Peter Egan
Csaba Csere
Jesse Alexander
John H. Davis
Peter Brock
David E. Davis, Jr.
Jim Dunne
Chris Economaki
Jerry Flint
Ken Gross
Beverly Ray Kimes
Karl Ludvigsen
John Lamm
Peter Lyons
Leon Mandel
Denise McCluggage
Tony Swan
Brock Yates
Lindsay Brooke