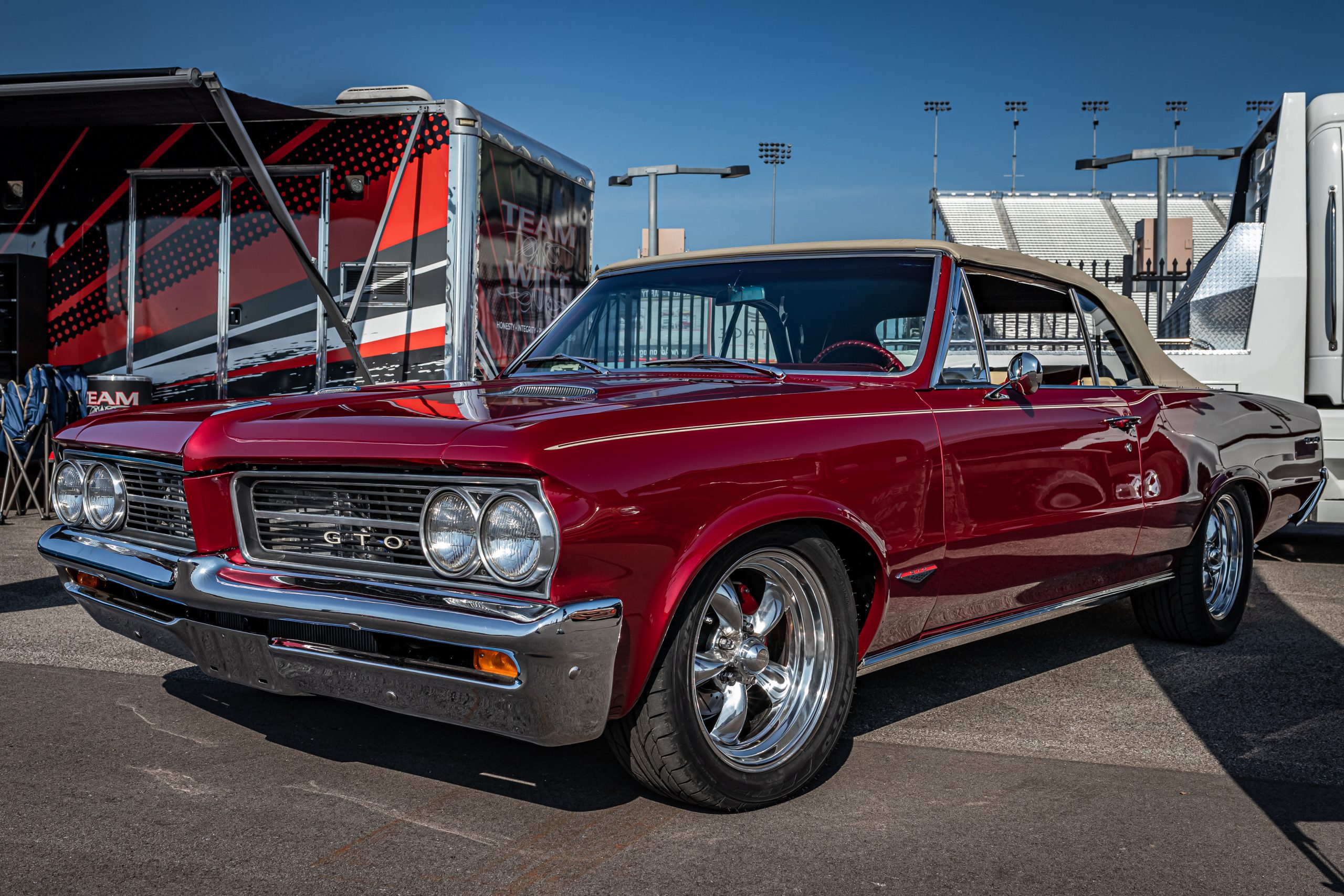 High-Performance Hustle Defined the First Real Muscle Car—the 1964 Pontiac GTO 
GM brass said no. No engines larger than 330 cubic inches in intermediate cars. 
An audacious bunch of Pontiac engineers said what the heck and in 1964 dropped a larger 389 cubic-inch V8 from the brand's full-size line into a midsize Tempest. 
The 1960s muscle car era was off and revving in high gear, The 1964 Pontiac GTO.
Go-Fast Premise + High-Performance Engineering + Youthful Demand = Sales Success 
Despite some disagreement among auto heritage cognoscenti, the 1964 Pontiac GTO is widely regarded as the first true American muscle car. Led by chief engineer John DeLorean, engine specialist Russell Gee, engineers Shane Wiser and Bill Collins, and others, the team followed the axiom hotrodders and racers had used for decades—put a bigger engine in a lighter car.  
As a well-established, mid-line, front-engine, rear-wheel-drive model, the modest Tempest was the ideal platform for the high-performance endeavor, especially since the larger 389 cubic-inch powerplant had the same dimensions and fitment as the smaller engine it replaced. The team built several test vehicles and quickly realized something special was happening. Timing was ideal since Pontiac's advertising and marketing approach had been heavily based on performance, with racing an important component of the strategy. Except General Motors management banned all divisions from involvement in competitive racing in 1963. Desperately needing a new angle, marketing types shifted the focus to street performance. Realizing that a catchier name was needed for their beefy Super Tempest, DeLorean came up with GTO. Inspired by the highly successful Ferrari 250 GTO race car, GTO stands for Gran Turismo Omologato, Italian for homologated (the term has to do with regulations and approvals) for racing in the GT (Grand Touring) class.  Coming to the iconic name of the 1964 Pontiac GTO.
To get around the GM policy limiting engine displacement in the intermediate line, GTO was sold as an option package. Doubting that the car would find a market, sales managers limited the initial production run to 5,000 cars. But consumers wanted more—more power, more speed, more long-distance travel on the emerging national highway system, more excitement in their automobiles.  
The basic GTO option package, available for two-door sedan, hardtop coupe, and convertible body styles, included the 389 cubic-inch V8 (rated at 325 horsepower at 4800 rpm), single Carter AFB four-barrel carburetor, dual exhaust, chromed valve covers and air cleaner, 7-blade clutch fan, floor-mounted three-speed manual transmission with Hurst shifter, stiffer springs, larger diameter front sway bar, wider wheels and tires, hood scoops, and GTO badges—all for $296. Higher-performance goodies added a four-speed manual transmission (the available two-speed automatic was largely ignored), more robust Tri-Power carburation rated at 348 horses, metallic drum brake linings, limited slip differential, heavy-duty cooling, and ride and handling package, along with other power and convenience accessories. Contemporary road tests using the Tri-Power set-up and four-speed manual trans clocked GTO at 0-60 in 6.6 seconds and through the standing quarter mile in 14.8 seconds, with a top speed of 99 mph. With every available option, GTO weighed 3,500 pounds and cost about $4,500, just within reach of the much-sought-after youth market.  
Pontiac GTO was exactly what car buyers coveted. Responding to the growing clamor, factory production was rapidly expanded. Total sales were 32,450 for the 1964 model year.   
Other brands took notice, with Chevrolet, Oldsmobile, Buick, Ford, Dodge, Plymouth, and AMC quickly launching competitive entries. At some point the term muscle car was applied to the category to describe a midsize, American-made, two-door car, outfitted with a large, powerful, V8 engine and appropriate options, engineered for blistering performance, both at the drag strip and out on the streets. For the next decade, the horsepower race was on, as smaller vehicles with roaring big engines now had an identity of their own.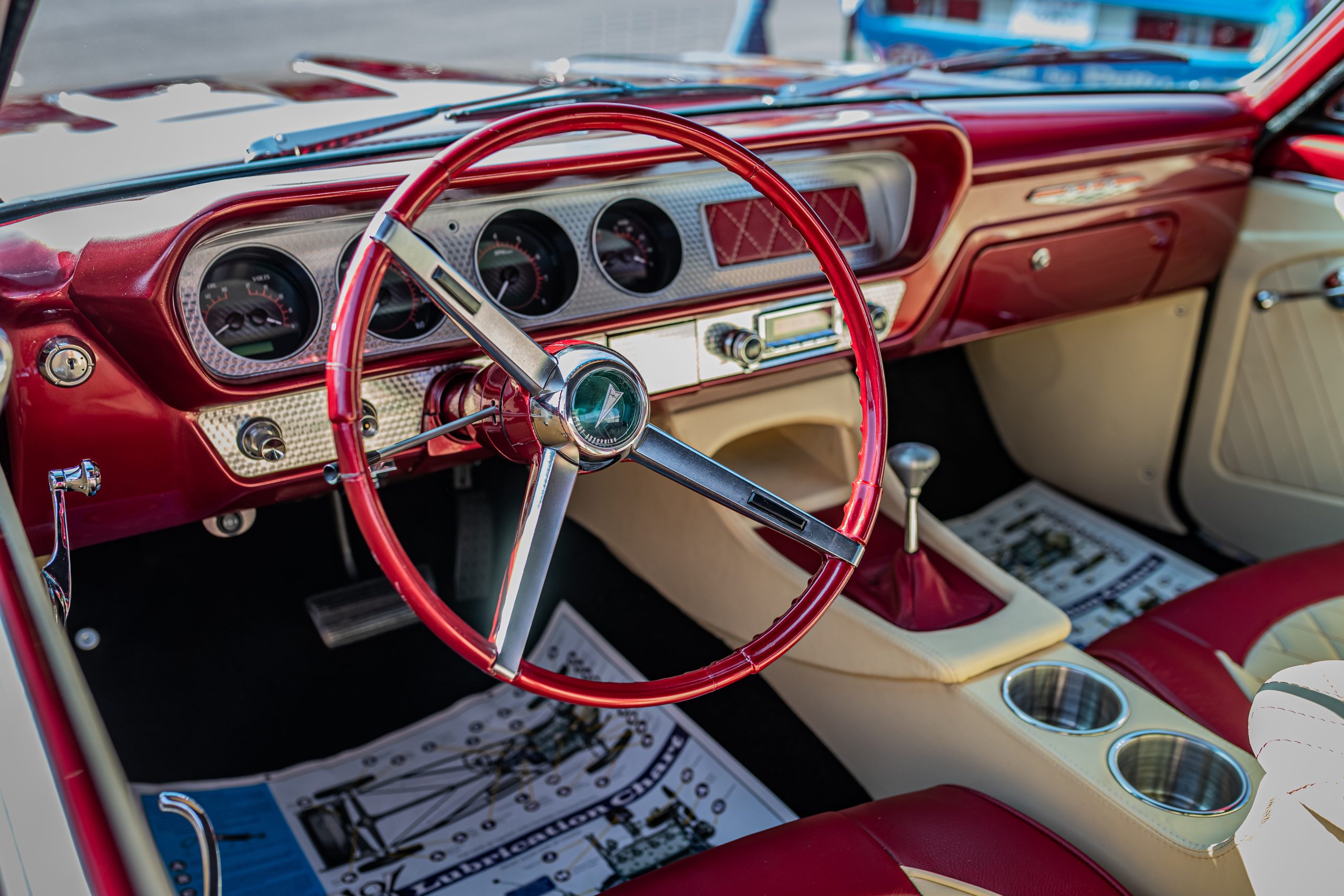 Upping Performance, Year over Year 
Recognizing GTO was a hit, Pontiac engineers, stylists, and marketers tinkered constantly with the formula, always seeking bragging rights and the next horsepower edge.   
For 1965, the entire Tempest line, including GTO, was restyled. GTO got stacked quad headlamps, new rear fascia, and a new hood scoop. More importantly, both standard and Tri-Power-equipped 389s saw a horsepower boost. Outfitting the Tri-Power with a batch of desirable options, road testers recorded 0-60 in 5.8 seconds, the standing quarter mile in 14.5 seconds, and a top speed at redline of 114 miles per hour.  
In 1966, GTO was finally elevated to separate model status rather than an option package. Performance specifications were mostly the same as the previous year, with unique grille and taillights and walnut veneer dash adding GTO-only flash. Sales increased to 96,046 units, the highest for all GTO years. Clever marketing had buyers flocking to showrooms; even wannabes who couldn't handle the price tag or found GTO impractical for growing families often ended up with another car from the Pontiac line.  
Only minor exterior differences separated the 1967 GTO from its immediate predecessor, but there were mechanical upgrades under the hood. The Tri-Power option was dropped in favor of a new quadrajet four-barrel carburetor, along with two new engine options. Customers yawned at an economy version with automatic transmission, but the Ram Air engine with functional hood scoop, stiffer valve springs, longer-duration camshaft, and other modifications got lots of buzz, especially with 0-60 times of 6.1 seconds and quarter-mile speeds of 14.5 seconds at 102 mph.  
1968 introduced a complete redesign across the entire GM intermediate platform. Exclusive to GTO was the body-colored Endura front bumper. John DeLorean (now promoted to Pontiac general manager) demonstrated this wondrous new concept in a tv commercial by whacking the bumper with a sledgehammer, marveling as it bounced back undamaged by the impact. Made of a heavy-duty rubber-plastic material, the new configuration allowed designers to assign any shape and incorporate the bumper into the car's paint scheme. Partially because of the miracle material, GTO was awarded prestigious Motor Trend Car of the Year accolades.  
With competition fierce across the industry, a special GTO edition, The Judge, roared onto the muscle car scene in 1969. Highlighting the top-of-the-line Ram Air IV were unique striping and decals, a 60-inch rear deck with spoiler, and glowing red-orange paint. Enthusiasts loved it, along with the humongous 455 cubic-inch dynamo offered as an option for 1970 GTO.  
Short-Lived But Fondly Remembered 
But the times they were a-changin,' and a mere two years later the whole muscle-car phenomenon was pretty much gone. Sales had steadily fallen during the last several years, and in 1971 GTO went back to being a mere option package rather than a standalone model; The Judge and GTO convertible were discontinued that same year. As the auto safety industry gained attention, the ever-escalating drive to go-faster became a liability, and insurance costs soared. Efforts to combat air pollution brought on the Clean Air Act of 1970, with strict emissions controls, reduced compression ratios, and performance-curtailing lower octane unleaded gas. The 1973-74 OPEC oil embargo led to gasoline rationing, dooming whatever was left of muscle car desire.  
Today, surviving examples of '64 to '74 Pontiac GTOs are prized possessions, commanding price tags starting around $50,00 for cars in excellent condition and going up from there. The ultimate and rarest GTO is the 1969 Judge Ram Air IV convertible; only 108 units were built. Equipped with numerous high-end options, total new-car cost was around $5,150. Fast forward to November 2010, when a 1969 GTO Judge Ram Air IV convertible sold at auction for an eye-popping $682,000! Current market price would be even higher—ironic for a car that originally brought race-worthy style and stunning performance to the masses for an affordable price. Popularly known back in the day as the goat after the animal that can eat anything, the 1964 GTO and successors indeed "ate" everything thrown at it. GTO boldness, flair, and fun stand legendary to this day.