2022 AWA Scholarship Winner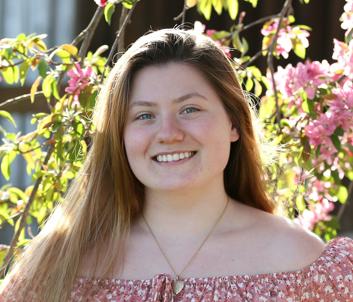 Madison Blood is an incoming freshman attending the College for Creative Studies in Detroit, Michigan pursuing a Bachelor's Degree in Transportation Design. She attended Meadville Area Senior High School and the Crawford County Career and Technical Center in her hometown of Meadville, PA. Madison is an exquisite artist as written by her commercial art instructor, Dennis O'Laughin. Further, he writes, Madison has a work ethic and talent on a professional level and rarely seen in a person of her age. She also received a full scholarship from General Motors to enroll in CCS's Freshman Transportation Design class while attending high school.
Madison's goal in the automotive industry is to design a vehicle that speaks to the masses, to be respected, offer creative innovation, and inspire younger generations to pursue their love for vehicles and design. In high school, Madison played varsity softball and basketball and was treasurer of the National Honors Society.
About the Automotive Women's Alliance Foundation
As of June 2022, AWAF awarded $527,000 in scholarships to 210 women pursuing careers in the automotive and mobility industry. We are a 501(c)3 non-profit with more than 200 members from all areas of the industry, at all career levels, working to support one another and other women through fundraising for scholarships and opportunities for professional development, mentorship, and support STEM initiatives. We welcome new members and sponsors to accelerate our mission and vision. Get to know us through social and informative events like the Fireside Chats, Pumps and Power, Professional Development Training, Virtual Happy Hours, and the annual August golf outing. Proceeds from events, including our flagship annual golf outing, go toward scholarships to women studying to enter or further their careers in the automotive and related fields and our STEM initiatives that encourage middle and high school girls to consider a career in automotive. We are working collaboratively with like-minded professional organizations and companies to build a more equitable and inclusive world for all and believe diversity fuels involvement. For AWAF, this means a focus on ensuring access to professional and educational opportunities, such as executive speakers, mentorship and professional development programs, STEM and scholarship activities, which supports our goal of developing a talent pipeline representative of diversity – "the art of thinking independently together", Malcolm Forbes. Our mission and vision motivate us to ensure the automotive, transportation, and mobility industries enhance the equitable and inclusive spaces to encourage, engage and celebrate diverse involvement. We will accomplish these goals through the actions of our board, committees, and members and broadcast of our activities which align with DEI initiatives.