The "AHF Bulletin" is meant to keep our community informed about what's happening throughout our spheres of interest. Please join us in promoting and celebrating automotive history, culture, and aesthetics by becoming a member, and send us the news you'd like to share.
Steve Purdy, AHF Managing Director
The 2021 season of collector car events have passed into this new season with the vibrant and successful Scottsdale auctions. And now we're looking forward to The Amelia, as it is now called, under the ownership and direction of Hagerty. The events we love are beginning to get back to at least near normal, and we're enthusiastic about the 2022 season.
We're disappointed, though, to announce that the Automotive Heritage Awards will likely not be part of this season's events. We find it necessary to declare a hiatus on our four-year-old Automotive Heritage Awards project. Headwinds are always strong when establishing a new event, and we've been unable to generate the financial support to continue, at least for this summer season. The infrastructure remains, so we'll be able to bring it back quickly and effectively if support is found.
This decision does not affect other projects and partnerships at the Automotive Heritage Foundation like our automotive fine art competition. The Foundation remains available to create, consult, and partner on projects that support the appreciation of automotive history, culture, and aesthetics.
A hearty THANKS! to Gary Witzenburg, Angie Bournias, Csaba Csere, Brian Baker, Steve Childs, all the journalism judges, our friends at the Concours and M1, America's Automotive Trust, and all who have supported the Automotive Heritage Awards. We all agree that these awards are important and valuable to the auto heritage community, and we hope to bring them back soon.
We'll continue to issue updates and bulletins as needed, and we'd be happy to help promote events and projects related to automotive heritage. If you'd like to help us reach out to others with this passion, we'd be much obliged.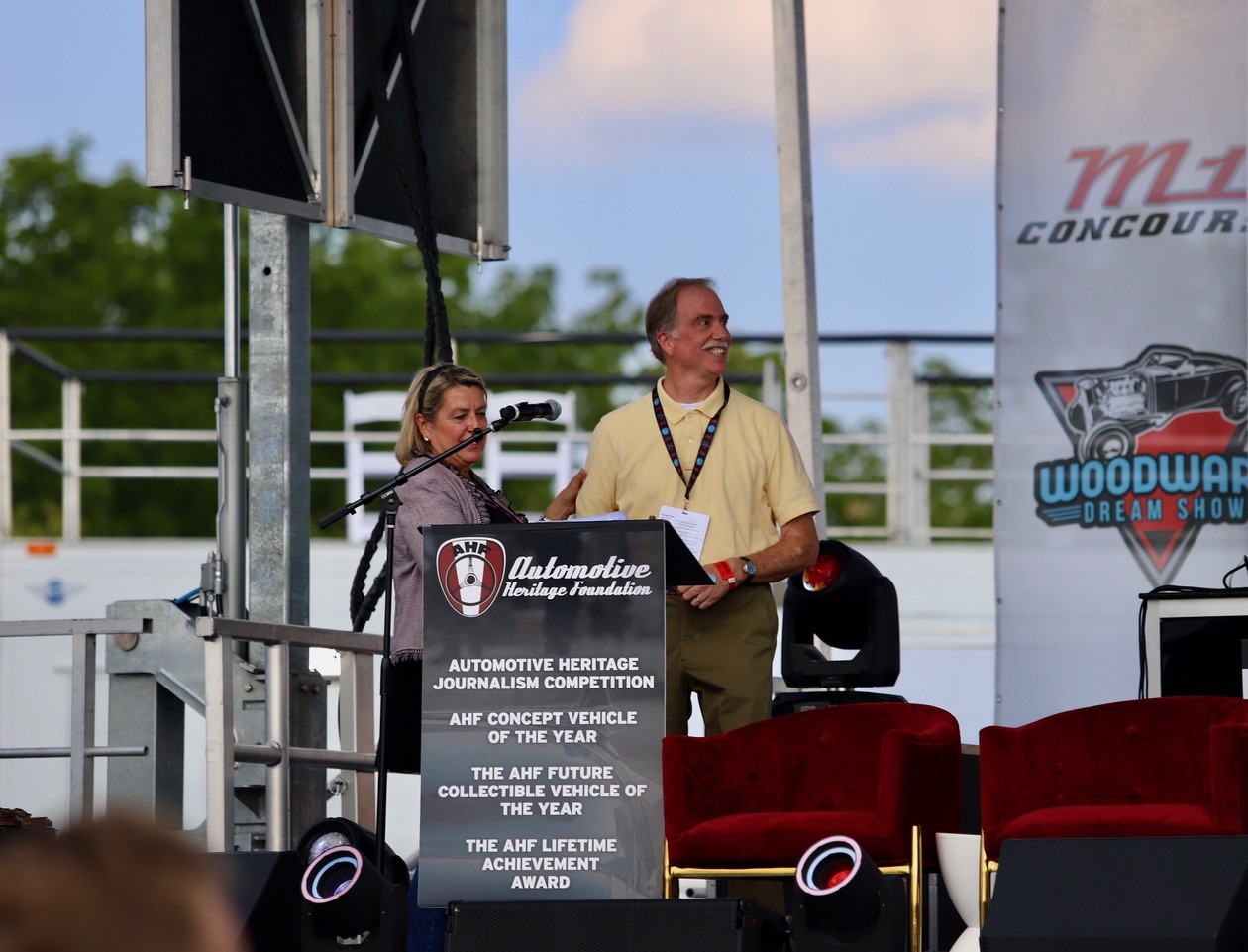 Diane Flis-Schneider from America's Automotive Trust presents the 2021 AHA Lifetime Achievement Award to honoree, Lindsay Brooke. Photo by Margaret Hehr.
Help Preserve Automotive Heritage
We humbly solicit donations of any size from those who share our passion for the promulgation of automotive history culture and aesthetics. Our 501(c)3 status was granted by the IRS effective February 2019. We would also be pleased to share in your knowledge, expertise and dedication as in-kind and volunteer contributions to AHA and AHF projects. Donations can be accepted here.