Presidential Vehicles Through the Ages
United States presidents embraced automotive technology in the early 20th-century with President William Howard Taft's purchase of four cars and the conversion of the White House stables into a garage. Presidents rode in stock, unmodified cars until President Franklin D. Roosevelt's administration bought the Sunshine Special, the first presidential state car to be built to United States Secret Service standards. Until the assassination of John F. Kennedy, presidential state cars frequently allowed the president to ride uncovered and exposed to the public. President Kennedy's assassination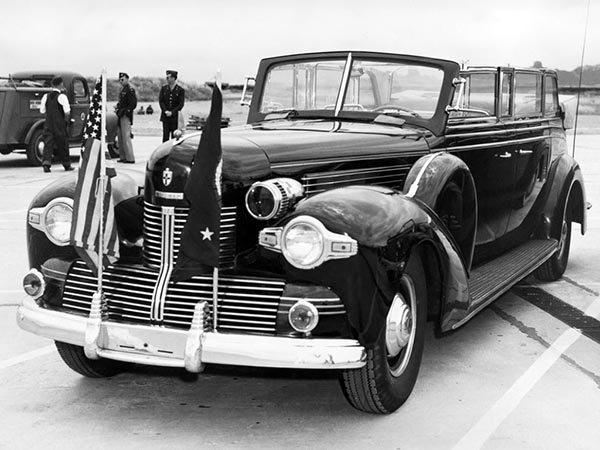 1939 Lincoln Sunshine Special.
Although the title of the first presidential car belongs to President Theodore Roosevelt, it wasn't until Taft introduced his Model M Steamer as the official presidential car and had the stables converted into a garage that the country began to notice and accept the idea of a presidential car. President Taft also had a pair of Pierce-Arrows. After Taft, it became tradition for presidents to have luxury vehicles as their preferred vehicles.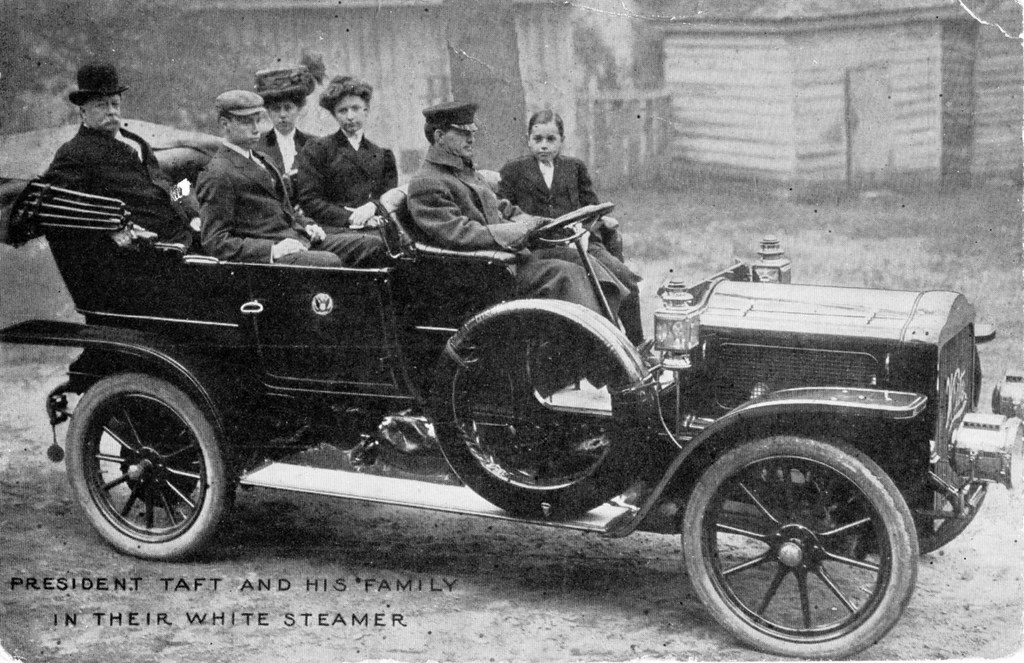 The Packard Twelve was the first armored car with bulletproof glass that was used by an American President. This particular Packard was also the last of the American-made V12 cars that were still in production. The body of the Packard Twelve was done by Rollston at FDR's request. Though this vehicle was never an official presidential limousine, FDR held on to the Twelve and is stored in the Toyota Automotive Museum.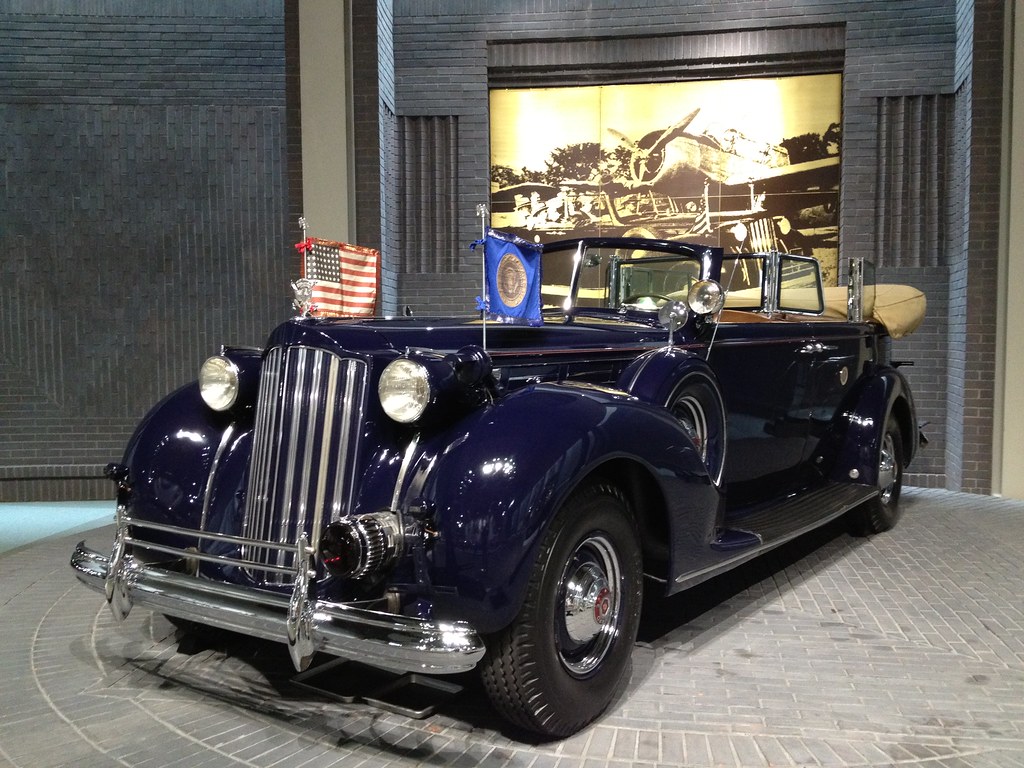 1946 Ford Super Deluxe Tudor Sedan
Despite not having driven it the day it was given to him, President Truman's Ford Super Deluxe was iconic because it was the first Ford to come off the assembly line after World War II. In its timeless moonbeam gray color, his Ford Super Deluxe was "production 1" – meaning it was the first vehicle to roll off the line at the end of the war.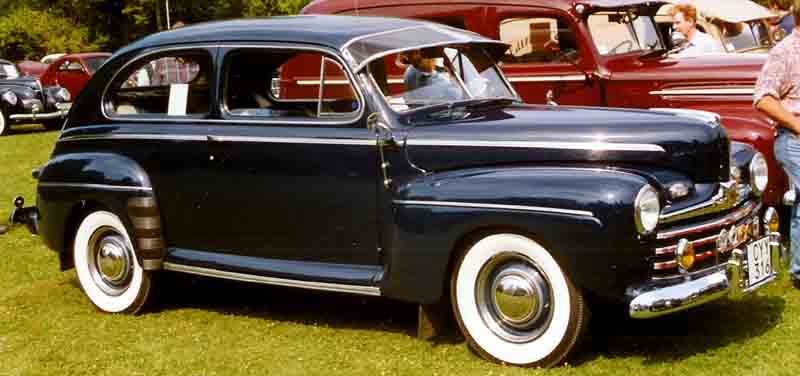 1946 Ford Super Deluxe Tudor Sedan
Before being elected as president, Nixon was running as vice president and had to refute allegations that he had taken illegal campaign contributions. Being no stranger to controversy, the man who would later become president referred to his Olds 98 as part of a speech that created his "everyman" image. The 98 was about as middle-class as you could get in the 50's.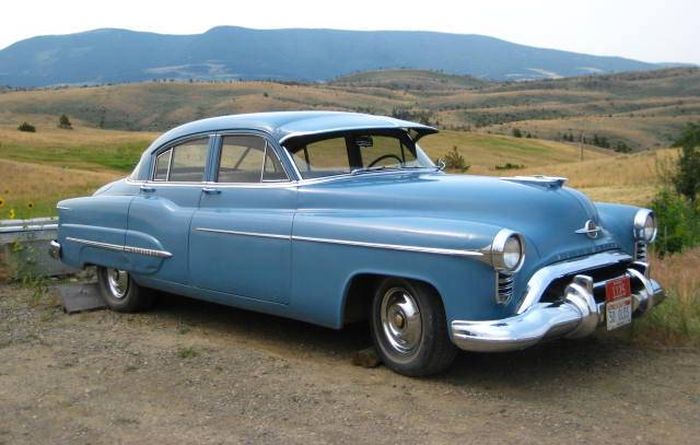 This surplus item from the military, presented as a gift from Nancy Reagan, was considered the only vehicle President Ronald Reagan prized more than his horse. The Jeep still resides on his California Ranch.
Presidents Kennedy, Johnson & Nixon
One of the most recognizable presidential limousines of all time, the Lincoln Continental was the car that JFK was riding in when he was assassinated in Dallas, Texas. In 1961, Lincoln was eager to show off their Continental body style and quickly accepted the request to build a presidential limousine, hiring Hess and Eisenhart of Cincinnati to modify the car.
After Kennedy's death, the car was later rebuilt with added armor, a permanent bulletproof top, and other modifications. The car was used and in service until 1977 when it was retired to the Henry Ford museum, where it still sits to this day as a grim reminder.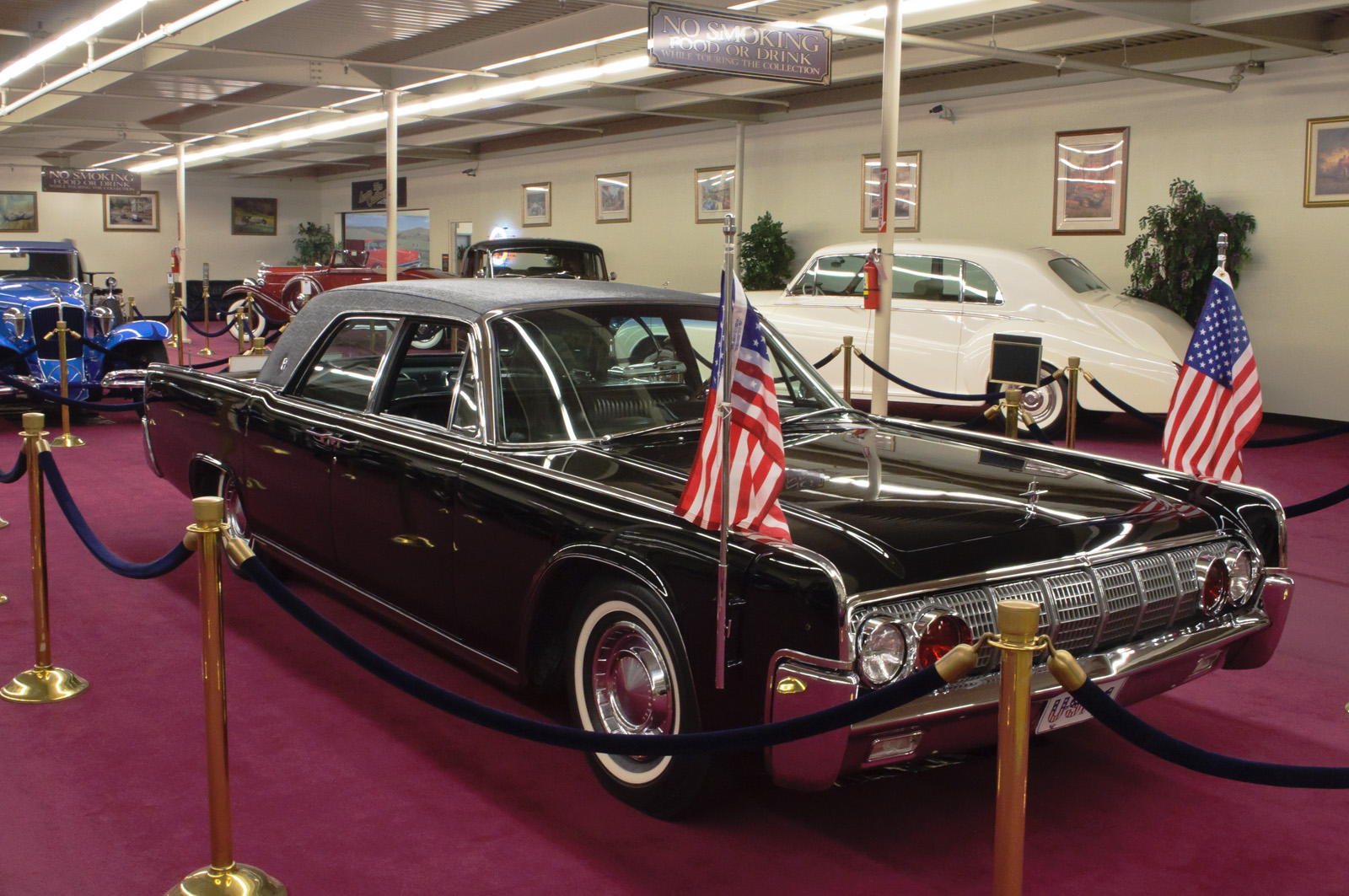 Though less than four thousand Amphicars were made in the seven years they were in production, the one owned by former president Lyndon B. Johnson still resides on his personal ranch in Texas. Rumor has it, when on his ranch, LBJ would pretend to lose control of the vehicle while driving around guests and "accidentally" drive it into a pond before laughing when the car floated and sailed on. Though this was not his official presidential vehicle, it is still a fun car to include in this list.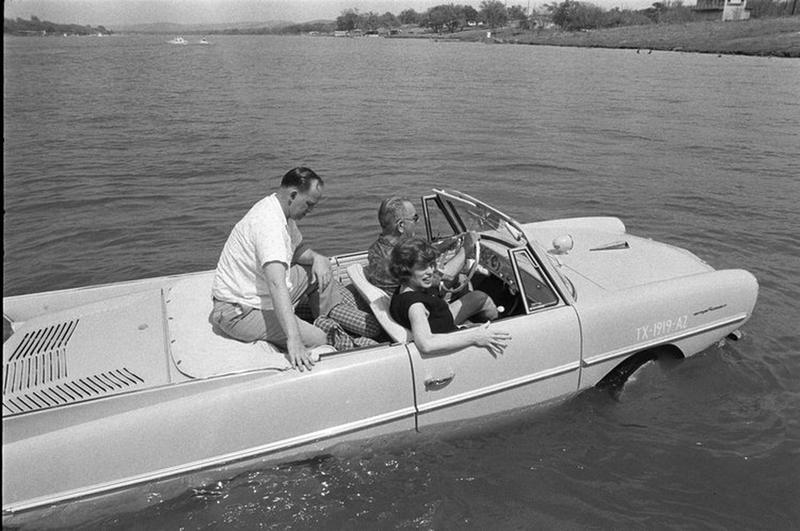 1967 Ford Mustang Convertible
Up until he became president, Bill Clintons prized possession was 1967 Ford Mustang in Ice Blue. While he was governor in Arkansas, Clinton kept his pride and joy and its value skyrocketed. This model Mustang is now a major collector's item since 1967 was the first year of the second-generation Mustangs.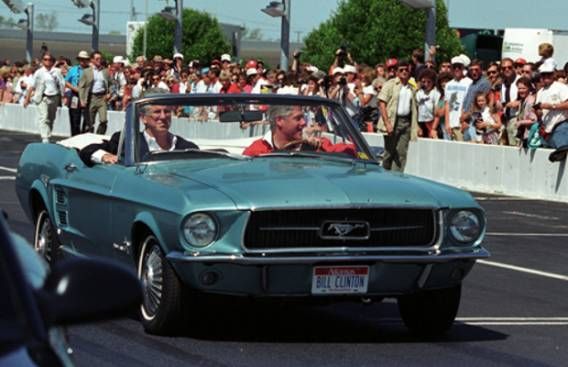 1967 Ford Mustang Convertible
1983 Cadillac Fleetwood Brougham
You may recognize this one from the Clint Eastwood film, "In the Line of Fire". Only two of these were made for the Secret Service and were build specifically to maintain high visibility and providing the maximum amount of security for the president. One of the cars was returned to General Motors and the other is at home in the Reagan Presidential Library.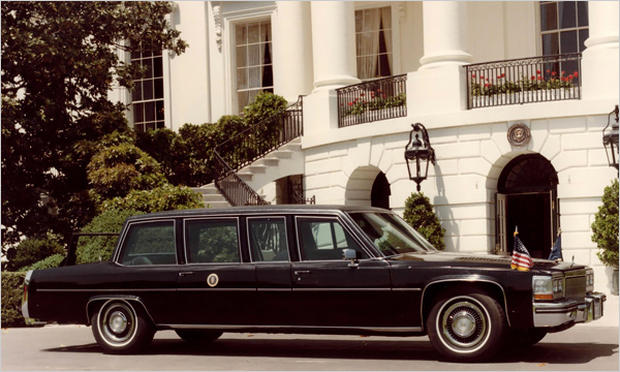 1983 Cadillac Fleetwood Brougham
2009 Cadillac One, "The Beast"
"The Beast" is still currently in service so there aren't too many details about it. It is believed to be built on a truck chassis from the GM line and runs on heavy-duty truck tires and wheels. A liberal amount of aluminum, titanium and other strong, lightweight materials stop the car from being unreasonably heavy, though it is still said to weigh more than 15,000 pounds. It has been speculated to run on diesel and while the bodywork is customized, it's derived from the Cadillac DeVille Limousine.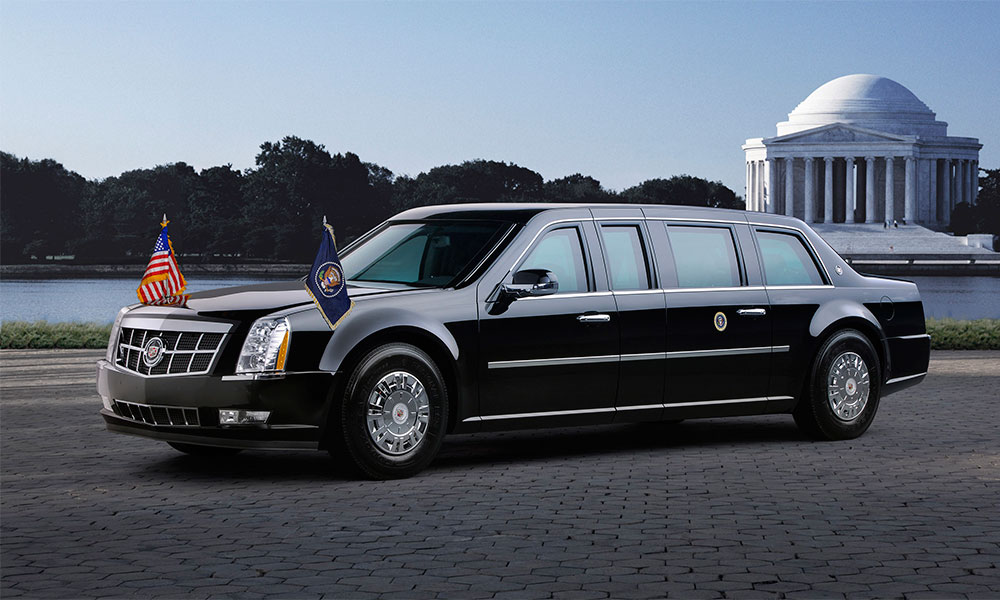 2009 Cadillac One, "The Beast"