2018 Lifetime Achievement Recipient
"…long-time monthly columnist for Road & Track Magazine and Cycle World."
The 2018 AHA Lifetime Achievement honoree is Peter Egan, long-time monthly columnist for Road & Track Magazine and Cycle World. For over three decades, Wisconsin-based Egan has skillfully told a broad variety of stories about vehicles, travels, and people he has met along the way. He was acknowledged by the New York Times Book Review as one of "America's standout auto writers." Other honors include: the Motor Press Guild's Dean Batchelor Award for Excellence in Automotive Journalism and the International Motor Press Association's Ken W. Purdy Award.
Peter Egan exemplifies the AHA's goal of honoring those who produce the "stories best told."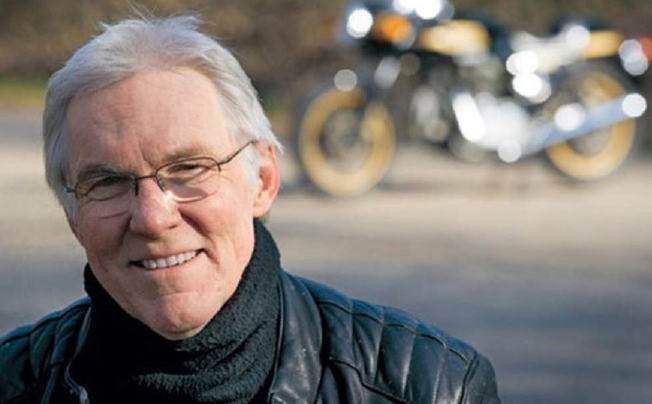 Tony Swan's Tribute to Peter Swan
PETER EGAN
Tribute by Tony Swan
For the 2018 Automotive Heritage Lifetime Achievement Award
Today we're honoring Peter Egan, who unfortunately cannot be here, owing to a long-standing commitment with a vintage motorcycle club at his home in Wisconsin.
Peter is one of the best story-tellers in automotive journalism, a writer with a keen eye for detail, a highly-developed sense of irony, and a style that refrains from embroidering fact with fancy for the sake of effect.
He also has a unique penchant for motorized odysseys that go well beyond the limits of ordinary comfort or, in some minds, common sense. And his story-telling makes those treks seem almost plausible, and invariably entertaining.
In fact, it was just such an odyssey that launched Peter's career. And I'm pleased to say that I had some small role in that launch.
But it was a long time coming. In fact, I think it's fair to characterize Peter as a late-bloomer. He didn't secure employment as a writer until he was 32.
Peter was genetically pre-disposed for journalism, although it took him quite a while to acknowledge it. His parents owned two weekly newspapers in rural Elroy, Wisconsin, so he grew up around linotypes and hot lead and Ludlow machines.
But when he got to the University of Wisconsin in Madison, he considered other possible careers. And one of those majors – pre-med in his junior year – led to a major detour.
Pre-med included courses in physics and bio chemistry, and Peter soon realized his brain didn't mesh with those subjects, and that he wasn't going to attain grades that would get him into any med school anywhere.
After dismal mid-terms, Peter walked off the campus and enlisted in the Army.
Peter trained as an infantryman, then served in Vietnam as a medevac radio operator. His military achievements included a Bronze Sar for gallantry. He mustered out and came home in 1970.
After a trip to Europe that included bicycling from Paris to Barcelona to take in the Spanish Grand Prix – a portent of journeys to come – he returned to Wisconsin where he met his wife-to-be, Barbara Rumsey.
Make that the 'long-suffering' Barbara Rumsey.
He also returned to the University of Wisconsin where he zeroed in on journalism, earning a BA in 1971.
But the degree didn't lead to a job. Instead, Peter found employment as a mechanic, working on foreign cars. And he found an excellent way to disburse his income – racing a Bugeye Sprite and Formula Ford in SCCA Club Racing, as well as motorcycle racing with a Honda 400F.
Peter didn't give up on journalism during this period. He wrote two novels and submitted many articles and short stories.
But nothing landed.
Until 1977, when he submitted a piece to Cycle World magazine – unsolicited. It was about a trip Peter and Barb made on Peter's Norton motorcycle. The title: "Dateline Missoula."
The destination was Seattle, but they didn't make it that far. The bike quit running in Montana. End of odyssey. Peter shipped the Norton to Wisconsin, then he and Barb took a Greyhound home.
I was the Cycle World feature editor at the time, and I still recall the editor-in-chief, Allan Girdler, walking into my office with Peter's manuscript, asking for my opinion. He like it, but wasn't entirely sold.
So, I read it. Like so many of Peter's road stories, there were unexpected asides before the trip's untimely conclusion, and he made even that appealing, with a lovely touch of wistful whimsy.
I thought it was just flat terrific.
Allan sent Peter an acceptance letter, causing margaritas to flow in Wisconsin. It was the first time he'd sold a story anywhere.
He followed up quickly with a piece about a cross country ride on a Honda 50 motorbike that was equally charming.
I left Cycle World in 1978, so I missed Peter's subsequent submissions. But they were consistently entertaining, and in 1979 Peter was invited to join the Cycle World staff, which entailed moving to Newport Beach, California.
He spent three years with the motorcycle mag, then joined the staff of Road & Track, a sister publication. Both were owned by CBS at the time.
Peter was on the Road & Track staff for seven years, before working out a deal that would allow him to work at home, whereupon he and Barb moved back to Wisconsin in 1990.
Over the years Peter punctuated his routine magazine assignments with heroic pilgrimages.
For example, he drove a 1930 Ford Model A from Wisconsin to California via the Ozark Mountains, calling the story "A Woody Guthrie Dust Bowl Odyssey."
He restored a 1953 Cadillac and retraced the route of Hank Williams trip from Montgomery, Alabama to Oak Hill, West Virginia where Williams died on New Year's Day, 1953.
His favorite car story recounted the adventure of driving a Hindustan Ambassador – an Indian knockoff of the little Morris Oxford sedan – from New Deli to Katmandu with friend Kirit Singh.
In 1981 Peter and Barb retraced the route of old Route 66, riding a Suzuki GS 1000.
But the epic journey was aerial. The couple are both pilots, and own a 1945 Piper Cub, which they flew around the U.S. The Cub cruised at a heady 65 mph, and over the course of six weeks it touched down at 68 different airports. Of course, it made a great story.
I may have been one of the very first to formally recognize Peter's talent, but I am far from alone. Over the years his work has earned him awards galore, including the Ken Purdy award that is generally recognized as the highest of its kind in automotive journalism. Peter has two to his credit – 1984 and 2008.
Peter also has: two Best Staff Writing awards, 1981 and 1983, when CBS Publishing owned both Cycle World and Road & Track; three Moto Awards from the National Automotive Journalism Conference, one for photography; an International Automotive Media Award, also for photography; the Motor Press Guild's Dean Batchelor Award for "Hank's Last Drive"; and, in 2017 he was inducted into the British Sports Car Hall of Fame at the opening of the Hall's U.S. branch in Richmond, Virginia.
Peter thinks masochism was probably an unwritten requirement of the recognition.
Those are just the highlights. And he's still going strong.
So, congratulations Peter. We'll look forward to your next piece.
Accepting the Automotive Heritage Lifetime Achievement Award is Peter's friend, neighbor and fellow journalist, William Hall
About the Lifetime Achievement Award
"The Lifetime Achievement Award is given to an individual who has, in the eyes of his or her peers, made a substantial contribution to the craft for a period of twenty-five or more years, and has contributed to the craft through the development and inspiration of automotive journalism's next generation."
The Lifetime Achievement Award, historically presented by the International Automotive Media Competition, had honored a person within the broad definition of automotive journalism. Our new version will narrow the focus to those whose are substantially involved in covering the stories and subjects related to automotive history and culture, antique, classic and collectible automobiles, and related topics. Jurors for this award will be former winners, as much as possible.
The physical award is a sculpture by renowned fine artist, Alex Buchan – a bust of Louis Chevrolet. A larger version of the sculpture will be installed as a special display at the LeMay – America's Car Museum, in Tacoma, Washington.
The 2018 AHA Lifetime Achievement selection was managed by previous honoree, Tony Swan. Jurors include: John Lamm, Ken Gross, John Davis. Csaba Csere
Jesse Alexander
Peter Brock
David E. Davis, Jr.
Jim Dunne
Chris Economaki
Jerry Flint
Ken Gross
Beverly Ray Kimes
Karl Ludvigsen
John Lamm
Peter Lyons
Leon Mandel
Denise McCluggage
Tony Swan
Brock Yates